The Ultimate Gizmos and Gadgets Guide that will make your life so much easier in the kitchen and a lot more enjoyable too!
Cooking a delicious and creative meal for the family doesn't have to be a daunting and stressful task. We're living in the 21st century which means it's time to invest in some amazing upgrades for your kitchen that will not only make life easier but make cooking fun! Trust me, you're family will thank you!
Fancy kitchen gizmos and gadgets don't have to be reserved for world-class professional chefs and restaurants. Us little people can surely create 5-star meals in our humble little kitchens as well.
I'm here to enlighten you of some creative, life-changing gizmos and gadgets that you'll never believe existed. Or maybe you did already know about them but just never really got around to buying them. Either way, let's jump right in and start simplifying your life!
Before we move on, please know that this post does include affiliate links. This does NOT mean that I do not value these products and only want to make a buck or two from them.

On the contrary, I only post affiliate links for products that I completely back up and recommend. 

By making a purchase through one of my links, you support my blogging dreams which in turn allows me to create more content for you!

I thank you in advance for your support! If you're considering purchasing any of these recommended items, please be sure to go through one of my links.

You do NOT pay any more for any of these products by going through my affiliate links. I promise! Thank you!)
Without further ado, here's my ultimate Kitchen Gizmo and Gadget guide that will make your life easier and much more pleasant!
Starting off this fabulous list is a handy dandy electric peeler! If you're anything like me, you hate having to peel potatoes and other fruits or vegetables. It's not that it's a difficult task, it's just flat out annoying. This is why I recommend getting yourself an electric peeler that will do the work for you in half the time!
While there are many different types of electric peelers, my recommendation is with the Starfrit Rotato Express Electric Peeler. It will peel pretty much anything you throw at it! Potatoes, tomatoes, pears, oranges, lemons, limes, mangos, and well, you get the point.
Not only is it an amazing time saver, but this is also a great product for anybody with medical issues affecting their hands such as carpal tunnel and arthritis.
Do you have picky eaters in the house that refuse to eat apples with the skin on them? I can tell you, by experience, that my little apple lover drives me up the wall constantly asking me for skinned apple slices. Plus, he has no patience waiting for me to peel them before handing them over. He's two, by the way. That's where this little gadget comes in very handy! Not only does it do all the work for me quickly, but it also entertains the little one while waiting for his snack! He just loves watching the long stringed apple skin glide right off the peeler. It's actually quite satisfying to watch! See for yourself below.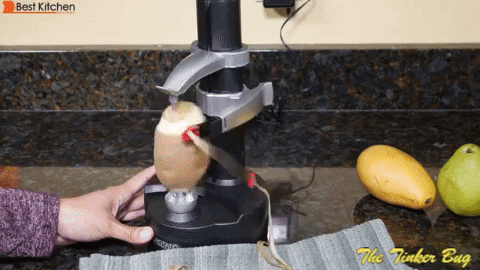 Side note: If you peel a lemon with this awesome gadget, you can take the long stringed peel that comes right off and chop it up to use as lemon zest for so many baking recipes! Genius!
Next up, we have a simple yet very effective Pancake Batter Mixer. I love getting creative with my pancake making skills in order to impress the kids. I find that it gives them more motivation to actually sit down and eat their full meal without much hassle.
I've attempted making tiny quarter sized pancakes, mickey mouse shaped ones, and I've even attempted letters before getting this pancake mixer. All I can say about that is that we've had more fails than wins! That's before I started using the Whiskware Pancake Batter Mixer. This has been so much fun using with my little one! While you can get just the main Batter Mixer here, I opted to get the Whiskware Pancake Art Kit instead for just $11.50 more.
The Kit comes with the big batter mixer, a smaller art bottle, and two silicone shapers. Each bottle also comes with the blender ball that helps mix up the yummy batter of goodness.
Usage Tip: Don't overfill the bottles. Fill it up about halfway to avoid blobs. This is if you're trying to make cute designs. If blobs are what you want, then fill it on up!
Want to see this amazing art kit in action? I would love to show you a video of me personally using it but my kitchen is not a video worthy kitchen! So instead, check it out here in this tutorial video by Mr. Otter Art Studio:
This next little gizmo is by far one of my favorites! It's the Dreamfarm Vebo Silicone Cooking Basket & Steamer. This little guy is amazing!! While it was designed to help you cook or steam your veggies, this thing does so much more.  So what's so special about a silicone, bag looking, basket you might ask? Number one, it's silicone and is very heat resistant. Number two, it's collapsible and stores very conveniently. And Number three, it makes life easier!
So how does it work? All you do it throw it into your pot then add your food so you can steam or boil it directly in the basket. As soon as you're done, instead of reaching over for that strainer, just pull the basket up and watch the water trickle right out and stay inside your pot! No more carrying a hot pot over to the sink and draining steaming hot water out! I wear glasses, so trust me when I say having steaming water pouring out of a pot and fogging up my glasses every time is a royal pain!

The main reason I got this bad boy here is for my love for pasta! This has made my pasta process so much easier. Boil, lift and strain. Bing bang boom! Not once do I have to move the pot and pour out any hot water to strain my pasta. And guess what, you can put raw meat in there too! Have you ever tried steamed chicken and broccoli? No, well you can definitely do it with the Dreamfarm Vebo Silicone Cooking Basket & Steamer.
Currently, it comes in two different sizes; 5-inch and 7-inch. I use the larger one of the two. Regardless of the size, it will fit any pot! And guess what! It works with the instant pot too!! Do you like to cook your own beans in your instant pot but you hate draining out that scalding water? Then get yourself this adorable little cooking basket!
Some of my family recently came to visit me from out of town, and of course, I took advantage of the free continental breakfast they had at the local hotel they booked. Less cooking for me! Included with their breakfast were some amazing looking bagels that I just had to get my hands on. I noticed they weren't pre-cut and all I saw were flimsy plastic knives that just weren't going to cut it. That's when I noticed right behind the bagel basket was this awesome gadget! I can't remember the one they had at the hotel, but this one is pretty much identical and has an almost 5-star review on Amazon. The Hoan Bagel Guillotine Slicer!
Now, if you always buy pre-cut bagels at your grocery store, then obviously this is an obsolete gadget for you. BUT, if you are a bagel lover that finds yourself always cutting your own bagels, then this is a must-have gadget for your kitchen!
I absolutely love this thing! And it comes in Red, White or Silver. It's awesome!!
Time to step things up a notch and get into some heavy duty rockstars that make cooking so much easier! Next on my list is the Aroma Stainless Steel Rice Cooker & Steamer.
Let me give you a little backstory on how I came to acquire this amazing piece of machine. When I met my hubby, he owned a little "bachelors" rice cooker. Don't get me wrong, it was a good little machine that got the job done, but it definitely needed an upgrade. I'm not one to be spending money (since I have none to spend) so we held on to his bachelor's rice cooker for as long as we were able to. Four years later, the poor little guy exploded! Yup, that's right. It exploded one afternoon when I turned it on. It just had no more cook in him!
I ended up going back to making rice the old fashioned way on the stovetop, but it just wasn't coming out the way I wanted to. I got too used to that little rice cooker. The time had come to go out and get a new and improved one. But this time, no more "bachelor's" anything! It was time to bring in the big guns! That's when I found this glorious work of art!
I opted to get the 20 cup cooker versus the 2-8 cup version, only because I truly love making larger meals that will last a couple of days. It's only $10 more than the smaller version. It was a no brainer choice! Plus, the photo on the box showing me all of the amazing meals I could make was the cherry on top! Not only does it cook rice, but it can also classify your rice as brown or white, steam your meats and veggies, and it serves as a slow cooker as well! Jackpot! I had the "shut up and take my money" face at the store that day.
I love this device so much that I think I may just even make a separate post about all the many delicious and creative meals that can be made in this one pot! Let me know if that's something you'd like to read!
This next cool looking and creative gizmo is an Index Cutting Board Set. I love the idea of having different cutting boards for different things! I will admit, I do not have this set… Yet! But as soon as I saw it, I loved the concept. Prevent cross-contamination and keep your kitchen organized with color-coded cutting boards!
This set comes with four large cutting boards that sit upright in a plastic storage case. Each board is indexed into four categories: Vegetables, Cooked Food, Raw Fish and Raw Meat. You can choose from a black case, silver case or brushed stainless steel.
Anybody that knows me knows that I love anything that has to do with office supplies. Leaving me inside an office supply store or hobby store is like leaving a kid in a candy shop! I've already informed the family that this is on my Mother's Day wish list so they are prepared!
I'll admit, I got this little gadget purely for looks! I love the way it looks like a little lego hand! My kids absolutely love all the lego movies and this makes them think there's a lego hand in our kitchen.
The purpose of this soap dispenser is to keep the top of the dispenser clean and more hygienic. When my hands are full of food or anything else, the last thing I want is to transfer that food over to my soap dispenser or bottle.
Simply put the back of your hand on the bottom of the dispenser, push down and watch the soap fall right onto your palm. It also has a non-slip base that helps keep it in place for you.
Are there other dispensers that can do the same thing? Yes, of course. There are even touchless ones. Those are great, but do they look like lego hands!? Nope! If green isn't for you, fear not, there's a nice grey one available too.
Up next we have the ultimate blender and food processor that will make life so much easier in the kitchen! I've been using the Ninja for years now and can't come up with a single complaint about it. Many many meals in my kitchen have been prepped using this amazing machine!
This set comes with two different sized jars; 48 oz and 16 oz, and a 400 Watt Power Pod. This amazing gadget dices, chops, blends, and purees. For the black version, click here.
There are so many things you can do with this little guy here. Pudding, Whipped Cream, Coleslaw, salads, frozen yogurt, smoothies and even your own bread crumbs to make yummy breaded chicken.  Did you know you can make your very own peanut butter as well? Yup, this machine does it all! The list goes on and on.
The latest favorite that the kids have fallen in love with is the frozen yogurt I've been making in less than 5 minutes!
I can't tell you how many times I've run out of shredded cheese when I was making tacos or needed some garnish my salads! Whenever that happened, I grab a few slices of my regular sliced cheese, fold them up to form a little square block, then I would use my little handheld grater to do the job. A lot of times, towards the end of the makeshift cheese block of mine, I would end up with chunks I just couldn't shred because I could end up shredding my finger! I wanted an easier way to shred my cheese so I went online and found this little guy right here.
Besides being an awesome cheese grater, this handy gizmo also slices and shreds veggies and can chop nuts too!
It comes in various colors as well making it super cute and fashionable in the kitchen! Choose from either Red, Blue, Green, Yellow, White or Red.
No more risk of cutting your fingertips while trying to use that old handheld grater!
Last but not least, we have these amazing Food Huggers! I can't tell you enough how many times I've had to throw away halves of onions, tomatoes, limes, lemons, and peppers because of poor storage in my fridge! My go to was always plastic wrap. I would just wrap them up in then put them in my veggie drawer in the fridge only to find they've gone bad after a short while. I was skeptical about these little huggers at first, but as soon as I tried them, I fell in love!
Not only do they help save those fruits and veggies in your fridge, but they also cover cans and bottles. A perfect example would be the little tomato paste cans! I rarely ever use the entire can in one sitting, so I usually just cover the top and put it in the fridge so I can use the rest another time. Most of the time, I when I come back to use it, it's already looking bad and I end up throwing it out. Food huggers fit perfectly snug on cans keeping everything nice and fresh!
Check out this video for 15 other ways to use these adorable and amazing food huggers.
That about does it for my top 10 Kitchen Gizmos and Gadgets that have truly made my life easier and so much more fun in the kitchen. Here's a list of all the products mentioned here so that you can hop on over and grab yourself one or all!
Don't forget to check me out and follow me on social media @TheTinkerBug, on Instagram, Twitter, Facebook, and Pinterest. I always follow back!
Be sure to sign up to my newsletter to get notifications on my latest blog posts. 
If you've enjoyed this article, feel free to Pin it with the image below!